Bringing our financial acumen to bear on your business.
The right financial approach can make or break a business – particularly when that business is a startup or even a new venture by an existing organization.
That's why SCAS provides a full range of financial advisory to clients of all sizes, across multiple industries and sectors. This is a cornerstone of the SCAS service delivery model, along with strategic consulting and investment banking: integrated delivery of the services that young, fast-growing businesses need most.
In financial advisory as elsewhere, SCAS has developed an institutional culture that maximizes value for clients. We champion and reward pragmatic innovation and intellectual rigor, underpinned by the highest ethical standards; the result being a reputation in the marketplace for imaginative and groundbreaking yet practical ideas. All of this, of course, is wrapped in the SCAS institutional philosophy of truly partnering with our clients for long-term, mutual gain.
Find out more about how SCAS skillfully manipulates strategic and financial levers to maximize value for clients in the Middle East, Europe and the U.S.
Move your mouse over the sections below for further details:
Our advisory services cover a whole spectrum of strategic financial and investment banking service offering.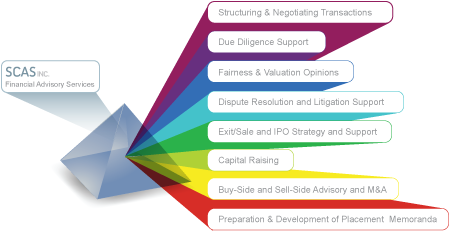 Click on any link below to read more about our individual service offering: